Signal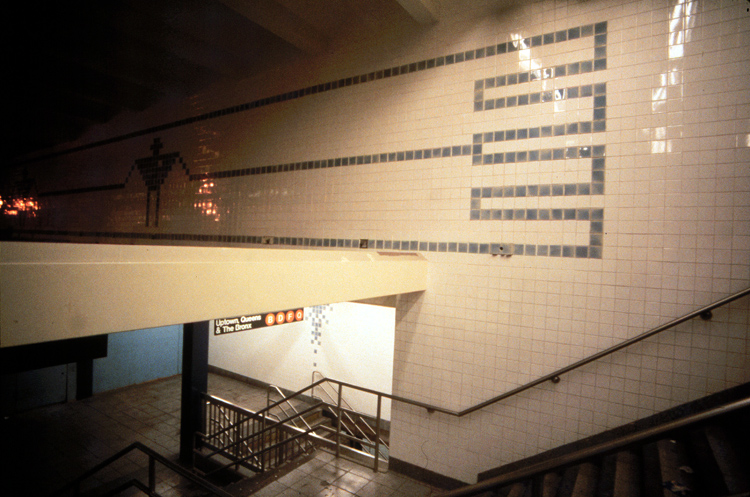 1993
A site specific Art/Architectural Collaboration with the Metropolitan Transit Authority for The Broadway/Lafayette Subway Station, City of New York.
In collaboration with The Six Nations of the Iroquois and Seneca Tribe member Peter Jemison.

Signal is a project that concentrates on the relationship of people in the historic past and the cultural present as they travel along a well-known road. Native American trails that formed a connective cultural highway through Manhattan produced one enduring track, later known as Broadway, which lead to the Dutch trading wall that came to be called (aptly) Wall St. The Broadway/Lafayette station sits on this historic path.
Components of Signal are to be found on all levels of the station.
A tile motif is on the wall of each section and begins on the platform level — a simple accent of four tiles in "Echo Blue" is set on a white tile background below each Broadway/Lafayette sign, all consistent with the Arts and Crafts design of the platform level. Ascending the stairs that lead to the mezzanine one sees the continuation and expansion of the blue tile pattern into a more elaborate geometric repeating pattern that can be read as traces of rising smoke. On the top level (upper mezzanine) the tiles are organized into a specific pattern, wampum-like in design, and loaded with the same cultural significance as the sacred belts. The design was prepared by artist Peter Jemison, on behalf of the Six Nations: the Seneca, Cayuga, Onondaga, Mohawk, Tuscarora, and Oneida — all North American Indian nations who continue to inhabit New York state and beyond.
This connection of blue and white tiles is intended to reaffirm a demographic reality. The influence of the Dutch on Manhattan is well documented. White tiles comprise a majority of the wall covering in the station; these white tiles (delft tile) recall the Dutch occupation of early Manhattan. Certainly the Dutch are still active in urban New York, as are Native Americans.
These tile patterns can be viewed from a gently arcing overlook that is located on the main passage of the upper mezzanine. From this vantage point an ember-like glow can also be seen emanating from the level below. This glow comes from five conical fixtures wrapped around the central structural columns. These Signal "fires" are enunciating fixtures that ground the columns with light. Their ember-like appearance and glow is intended to have multiple purposes. These function to alert the subway rider of approaching trains by means of aesthetic elements that also rekindle a certain moment of the historic past.
The Masonic Compass & Square emblems served as a pattern of reinvention for some 17th Century Native Americans, who transformed the insignia into highly decorative variations. Although trade items, they were considered symbolic representations of the Council Fires. In consideration of this fusion of cultures, they serve as the primary source of design for the Signal fires.