(Belief/Punishment) Yaqin Saza (for Jam Saqi)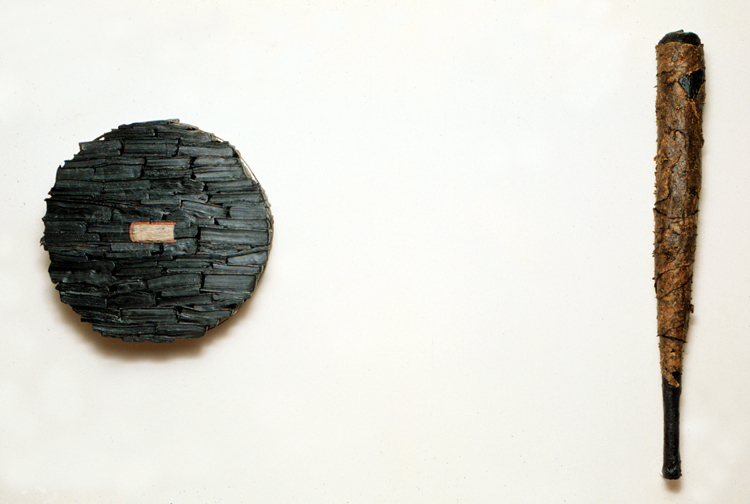 1986
books, asphalt with hair and glass fiber, encaustic, paper, steel, rivets, wood
53 x 75 x 9 inches
Jam Saqi is a Pakistani poet and novelist who was incarcerated for nine years. His crime was possession of what the Zia regime had deemed "banned political literature." Chin became aware of this case through the efforts of Amnesty International, and this work was executed and subsequently auctioned to raise funds for the organization.
The title of the work, as well as the form, is derived from Urdu, the official literary language of Pakistan.
The words, belief:

and punishment:

, served as visual and conceptual catalysts from which the final visual interpretations emerged.
Ruined books, tarred, imbedded with screws, hog hair and nails, then banded and riveted with steel, address the loss, damage and disservice to the history of ideas and information that come with suppression. The painted image of a book at its center confirms the intangible yet indestructible nature of belief, the presence and survival of conviction in a desert of waste.
The club, "bandaged" with paper to call to mind the tormented skin of a figure of a man, implies not only the capacity of a weapon to inflict pain, but how it can become emblematic of unjustified punishment. Here the wrapped likeness of a flayed man presents the capacity for torture to disfigure the body as well as distort human will to serve its purpose.