Gate of the New Gods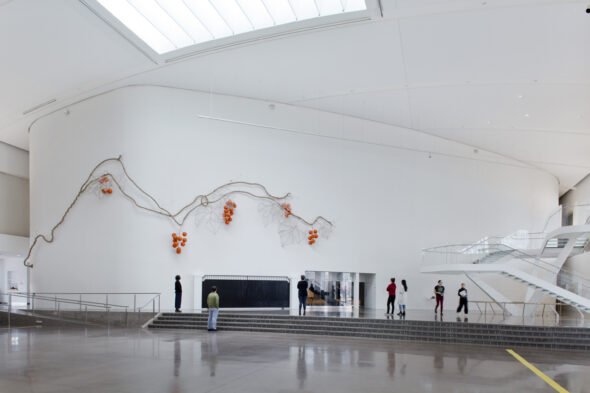 2018
steel, polypropylene rope, basketball nets, basketballs, paint
dimensions variable
Basketball star LeBron James' Los Angeles home was the target of a hate crime when the "N-word" was spray-painted across his front gate in May 2017.
In Gate of the New Gods, an exact scale replication of the gate is combined with a colossal hand made vine of twisted rope, steel tendrils, and basketballs as grapes and leaves made of regulation white hoop netting.  It is a variable installation with the basketball-grape vine configured to any individual site.
Gate of the New Gods acknowledges the impact of sports celebrities in American culture and the quasi god-like quality of LeBron James especially his public stance in the face of persistent racism. Responding to the attack on his home, LeBron James commented,
"No matter how much money you have, no matter how famous you are, no matter how many people admire you, being black in America is tough. We got a long way to go for us as a society and for us as African Americans until we feel equal in America."
Chin would like this work to be considered a "kneel-down" to James, a triumphant arch of elements of LeBron's sport above a gateway closed in defiant resistance to the challenges of equality.
The gate is replicated in exact material and scale as the gate attacked in Los Angeles. As a permanent sentinel of steel, it is a work of art to be protected, never to be defaced again.